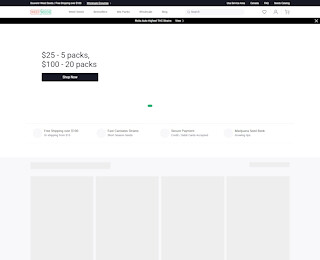 The state of California permits cannabis farmers to grow a maximum of six strains per yield. This guideline determines how cannabis farmers select their California marijuana seeds.
It is essential to understand that California's climate and weather favor specific cannabis strains. Of all the U.S. states, California is famous for producing highly potent weed strains. Many consider California cannabis seeds as the pioneer of covetable cannabis strains. Farmers can grow a wide range of cannabis strains in California. However, the most popular California cannabis seeds include:
Blue dream
 
Grandaddy Purple
 
Gelato
 
Jack Herer
 
Wedding cake
Blue dream
'Blue Dream' is a potent cannabis strain that blends two popular weed strains: Haze and Blueberry. A Blue dream yield has floral blooms with a berry and spicy flavor in the buds. Each bud delivers an intense but not overwhelming high. Blue Dream cannabis strain is ideal for alleviating stress, fatigue, and depression. It also provides chronic-pain relief.
Grandaddy purple
As the name suggests, Grandaddy Purple has a characteristic purple hue. It is a popular Californian strain revered for its grape and skunk flavor. Granddaddy purple's potency typically lasts for about 30 minutes before it levels out.  With its high THC content, this strain is ideal for stress, pain, and muscle spasms relief. In addition, Grandaddy purple has tranquilizing effects making it a perfect sleep-inducer.
Gelato
Gelato is a popular cannabis strain grown in California revered for its medicinal properties. Another defining feature of this strain is its sweet smell derived from two fragrant stains, Sunset Sherbet and Mint Girl Scout Cookies. Despite the fruity flavor, the Gelato strain is highly potent, with a THC level of 25 percent. Gelato weed strain is perfect for alleviating chronic pain, anxiety, and depression. Smoked casually, Gelato is a mood booster that can improve users' quality of life.
Jack Herer
Jack Herer is a renowned sativa strain in California and throughout the world. Growing this strain requires patience as it takes time to bloom. Jack Herer strain has an energetic buzz thanks to its 25 percent THC content. It is ideal for alleviating tension and boosting users' moods.
Wedding Cake
The 'Wedding cake' is another fruity Californian weed strain. It blends two cannabis strains: Girl Scout Cookies and Cherry pie. The resulting bud has a sweet, citrusy, and earthy flavor. This weed strain is very rare and only found in the best online seed banks in California.
'Wedding cake' has two seed strains: feminized and auto-flowering seeds. The feminized seed is a product of Cherry Pie and Girl Scout Cookies strains. The autoflowering seed strain is a derivative of Wedding cake strain and Girl Scout Cookies auto strain.
When you buy marijuana seed strains in California, ensure you are buying from reputable cannabis farmers. Research on the best weed strains that grow in the California climate. In addition, find out the properties and benefits of each cannabis strain.  A reputable cannabis seed seller should be able to educate you on the cannabis strains available in California.  Only buy cannabis seeds in California from a legitimate cannabis business with an online presence. Please contact Weed Seeds USA at 1-844-807-1234 to buy your seeds or purchase online.